AFF Equipment
We are proud to be sponsored and partnered with the following companies: Please visit our sponsors websites by clicking their logo's.
Fly Rods: Our Echo Sponsorship has been phenominal. With the introduction of the Echo 2 Rods with 2 tips (1 for accuracy, the other for distance) all the anglers at AFF have been extremely impressed. Echo was recently rated 1st among rods under $300 and 3rd overall in terms of any amount of money. Tim Rajeff owner and founder of Rajeff Sports has been extremely thoughtful and quite instrumental in many projects including sponsoring us here at AFF. Rajeff, who happens to be a world class angler is also a responsible for designing and testing the rods we use day in and day out.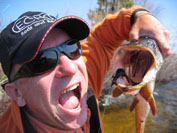 Line/Leaders: To accompany our Echo Rods we use Airflo line and leaders. A smooth & affordable line, needless to say we are quite pleased. I just recently gave an Airflo Line to a friend and and avid "fly guy" for his birthday and he has noticed immediate results.

Videography: At AFF we shoot with the newly released Panasonic High Definition Hand Held Camera. Using P2 Card Technology we are at the forefront of the industry especially by users within the New England area. With the support of a DVX user group we are constantly following the progress of this mind blowing technology. We are sponsored by Cinevate Inc., "a fun, friendly company committed to innovating professional and affordable tools for filmmakers."(cinevate.com) We used many cinevate products while in Montana are extremely impressed with the quality of our Brevise lens in particular. Using this equipment makes our casts appear as sharp as possible to our viewers!